If travel, time and financial considerations make it difficult for you participate in the Gene Trowbridge Ultimate Workshop in Real Estate Syndication, you can now bring that learning experience to your home or office. The Trowbridge Curriculum Self-Study Course is based on the Workshop that Gene has conducted for hundreds and hundreds of real estate syndicators and investors across the country.


What You Get For $795

In a self-contained Literature & Media Album you will receive:

Six Private Money Ultimate Workshop DVDs, shot on location during an actual three-day workshop event;


a Self-Study Manual that is of enormous help in mastering the complexities of the syndication business, and


a CD audio supplement for quick review of major points.


Additionally, you will receive an unabridged copy of Gene's book, It's a Whole New Business! It has become a fundamental, how-to text for real estate syndicators and is a $295.00 value all by itself.


$795 vs. $3,295

With the book (priced at $295), the Ultimate Workshop registration fee of $1,995.00, plus the cost of transportation, lodging and incidentals, you'll probably save some $2,000.00 by purchasing the Self-Study Course! PLUS you can share it with colleagues.

Subject Matter

The Self-Study Course explores such topics as:
Bonus Consideration

Professionals who purchase the Self-Study Course can attend any future Ultimate Workshop for the deeply discounted price of $995.00 (versus $1,495) if they want to explore the subject more deeply. This is particularly helpful just before you put together your first real estate syndication group. It is bankable knowledge!

Private Money Ultimate Workshop
Home Study Course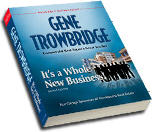 More About Gene's Book:

Download the free report:

Eight Steps to Take in Forming and Operating a Group Investment




If you have any questions about the home study course, please call me at 866-290-4183.